SoundGrid setups that run SuperRack, SoundGrid Studio or QRec, will usually include a singular switch, while eMotion LV1 is a full-blown live sound system, that can potentially include many I/O devices, servers, hosts, and switches. This is where proper system design comes into play.
When designing your SoundGrid network, it is important to stick to a star configuration and minimize the number of switch hops as much as possible.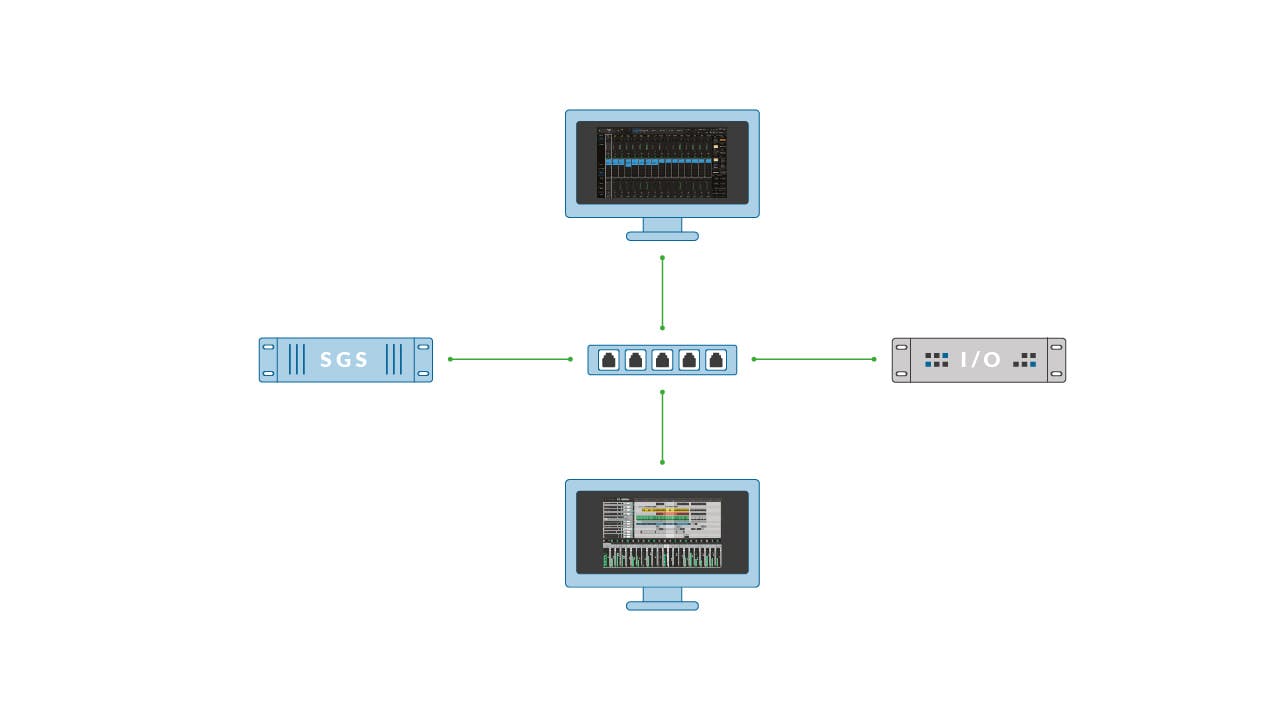 Since each network interface in the network is limited to a bandwidth of 1Gbps, Star topology helps SoundGrid to handle heavy traffic loads on the network, so that each link will only carry the data that's relevant to and from the specific end point device to the switch.
In a Star topology, all devices in the network are connected to a central switch that receives all incoming data and then forwards the data to the appropriate destinations.
Although some SoundGrid I/Os have built-in switches (such as DiGiGrid interfaces – IOX, IOS, IOC, MGR), it is not recommended to daisy-chain devices. For example, if you have four IOX devices in a stage rack, then run four separate cables—one from each unit to the network switch—as opposed to daisy-chaining the devices.
Note that Star topology is recommended in the context of a singular local switch – when using multiple switches, for example, one at Front of house and one on Stage, the link between those switches will potentially carry data to and from multiple devices. It is recommended to make sure that the link which connects the switches is not overloaded.
An easy way to calculate this is to add up the maximum channel count that each I/O can transfer and receive to and from the network, on a single link.
The general rule of thumb is that a 1Gbps link can run up to 512 channels at 44.1/48kHz, and 256 at 88.2/96kHz.
For example, when using 2 DSPro 4000 units on stage (each with 40 available inputs and 28 outputs, including analog, AES and headphone outs) and the SoundGrid Server is located at the FOH position, you will potentially run 80 inputs and 56 outputs on that single link, connecting the 2 switches. At 48Khz, this is about ~%15 of the available bandwidth, while at 96Khz it is about ~31%. This calculation shows that in both situations you are well below the point of overload.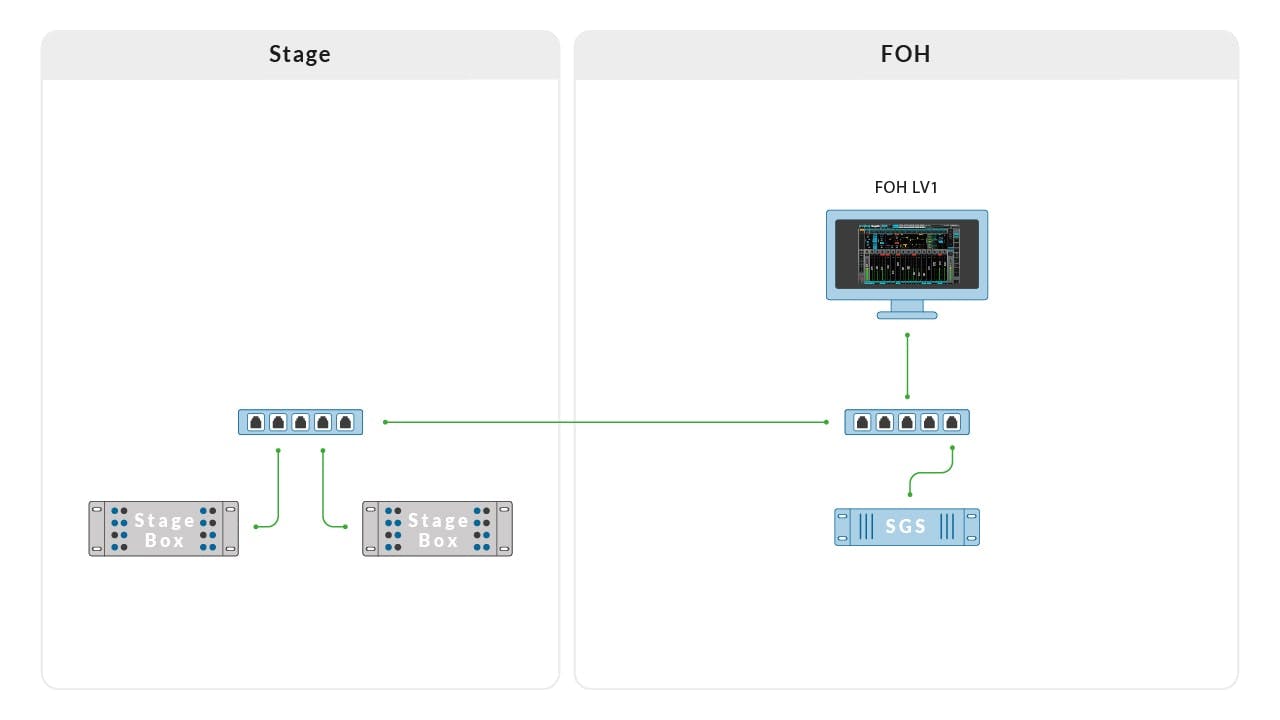 Each patch creates a discrete connection between the source and destination. When patching a device to more than one destination, for example, patching inputs to a recording computer or using I/O Sharing to send the same set of inputs to an additional SoundGrid server and host, you would need to multiply the channel count by the number of destinations.
For example, if you send a single mono source to 3 different destinations, the device will output 3 channels to the network. If you send 32 channels to 3 destinations, the device will output 96 channels to the network.
Going back to our previous example, let us add an additional host computer running eMotion LV1 (Utilizing I/O Sharing), a SoundGrid server and a recording computer running the SoundGrid DAW Driver to record the stage box inputs, all running on the same FOH switch. In this case, you will potentially be transferring 80x3 (240) inputs from the stage boxes to eMotion LV #1, eMotion LV1 #2, and to the recording computer. At 48Khz, this is about 47% of the available bandwidth, while at 96Khz it is about 94%. This calculation shows that in 48kHz you are below the maximum available bandwidth, while at 96kHz you are almost at the point of failure. To clarify, in this example you did not take the output count into consideration, since only inputs can be split to more than one destination. Outputs of an I/O device can be used by more than one host, but each output is exclusive to its patched owner. Simply put, this means the output count stays the same (56).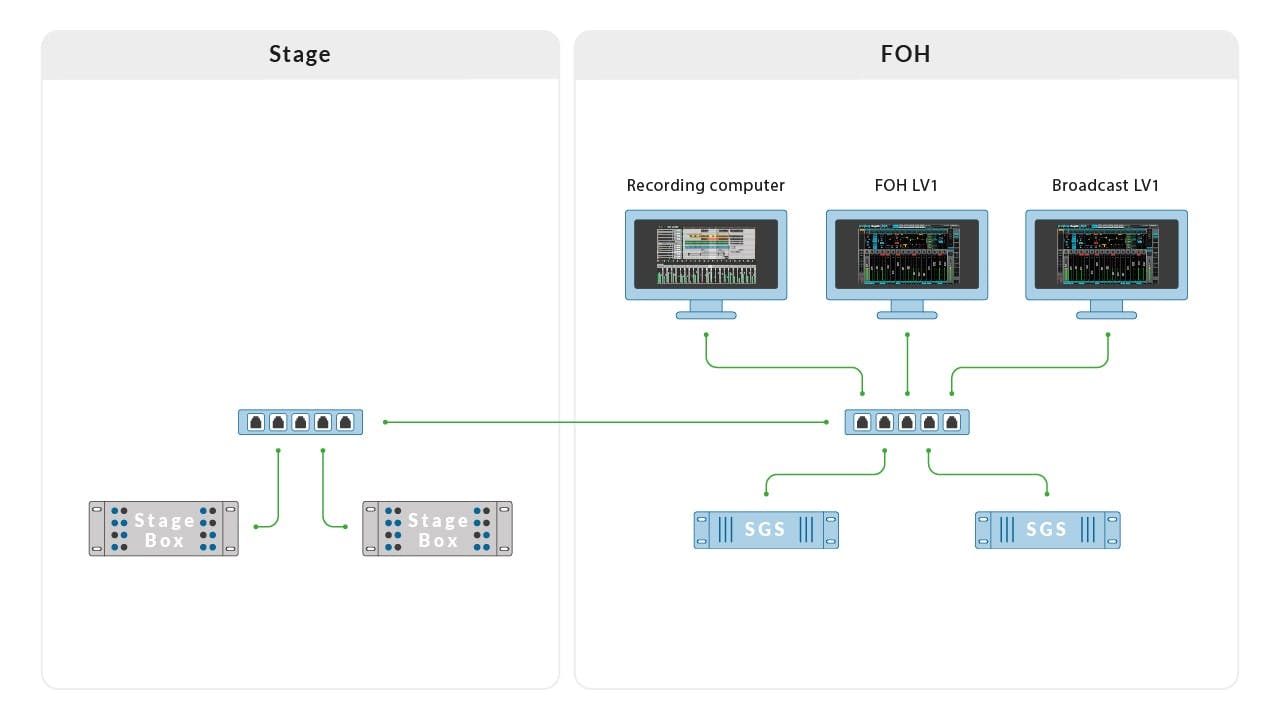 Every 'switch hop' in the signal path adds latency, due to buffering in the switch, and while Waves supports up to four 'hops' between point-to-point, it is highly recommended to minimize 'switch hops' whenever possible. This is especially important when designing 'Super Systems' that consist of multiple LV1 and SuperRack hosts in several locations on-site. Such a system can sometimes include 5-6 network switches, according to the requirements of the specific production facility. This is ok, as long as the audio paths between 2 end points do not exceed the 4-switch hop rule of thumb.
A common question that comes up when designing a SoundGrid system is - where should I place the SoundGrid server?
The answer to this question will vary according to the size of the network. Since the server sync relies on the SoundGrid SoE clock master of the system, it is advised to keep the server and the clock master as close as possible, preferably connected to the same switch. However, in smaller setups (for example: 2 switches, stage, and FOH), server placement does not play a crucial role, and is dependent on the operator's preference.
In large super systems, it is wise to centralize SoundGrid servers and main I/O devices as much as possible, so that all I/O devices have the shortest path possible to the server and the clock master, given that both the I/O clock master and the server are connected to the same 'main switch'. This will, of course, vary significantly per use case and conditions, but as long as the 4-hop limit is not exceeded, it should be fine.
Racking guidelines


To ensure that your system is working in optimal conditions as well as to ensure the longevity of your devices, please refer to the following racking guidelines:
DigiGrid's IOS/IOS-XL/IOX/IOC - It is recommended to allow at least 1U gap above the unit to make sure that it has enough ventilation space.
Allow sufficient space for ventilation above SoundGrid Servers and Axis Scope/One computers.
Make sure that all your SoundGrid devices' ventilation grills are not clogged by dust. If they are, unscrew the grill panel and clean the dust filters.
As a general tip, it is recommended to connect all devices in a rack to a mutual power strip. In a case where a Panel Connector Chassis is being used to accommodate powerCON connectors, please make sure that all connectors are properly grounded.
A common question that you might ask is 'What would be the proper manner to power on and off the SoundGrid system?' - The answer to this is explained in the Best Practices For Powering SoundGrid Setups On and Off article.
For troubleshooting purposes, we recommend designing your racks in a way that allows easy accessibility to the network switch.
Make sure that the rack and its devices are well earthed and that their power socket has good contact with the ground.
For convenient access to rack devices and/or to connect two racks together, it is common practice to extend network switch's ports to a rack panel mount. When doing so, we recommend using etherCON connectors of the same category as your cables.
Important notes:
Cat6 etherCON cable housings do not intermate with Cat5e or Cat6a etherCON panel connectors.
Cat5e and Cat6a etherCON cable housings do not intermate with CAT6 etherCON panel connectors.