Using Apple Silicon computers for recording or playback with the SoundGrid driver may result in intermittent audio dropouts. We are working towards fixing this issue, but until resolved, we recommend using Intel based Mac or Windows computers for recording and playback with the SoundGrid driver. Still, there are many systems that record/playback with Apple Silicon computers flawlessly. This article presents recommendations to try if you are experiencing audio dropouts:
We highly recommend using one of the approved ethernet > Thunderbolt adapters, to ensure highest possible priority by the operating system:
In an eMotion LV1 or SuperRack setup, it is advised to user a separate computer for recording/playback.
Set the Core Audio buffer size to 128/256 samples. This will ensure audio is processed by performance cores and not efficiency cores. This is done in the DAW's preferences.
Set the Driver Network Buffer in your SoundGrid application to 512 samples. Here's how –
QRec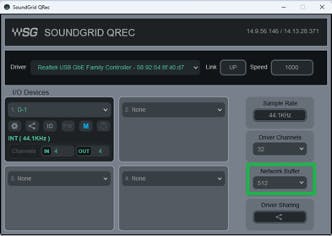 SuperRack SoundGrid (Setup > Inventory)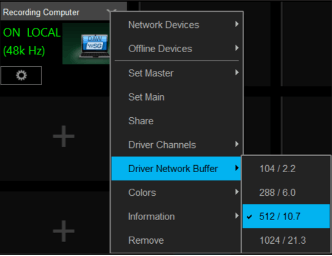 eMotion LV1 (Setup > Inventory)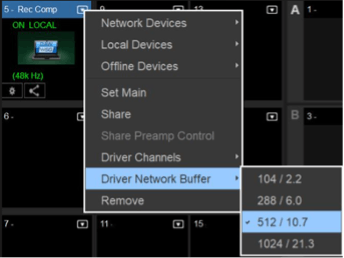 Make sure that the DAW you are using is fully supported with the Apple Silicon architecture. If possible, test another DAW and check if the behavior changes.
The default security settings of Apple Silicon Macs only allows installation of 'user mode' drivers, and does not allow installation of Kernel Extension (kext) drivers. The SoundGrid driver installs both 'user mode' and Kernel Extension drivers, but the active mode is determined by the computer's security settings. If the driver is in user mode and you are experiencing issues, change it to Kernel Extension by following the instructions in this link (Use Kernel Driver with reduced Security Policy section). How do you know which mode is currently active? If the driver is running in user mode, a lower case 'u' is added to the version number at the bottom of the SoundGrid Driver Control Panel:
Turn off Wi-Fi and Bluetooth.
Close any unnecessary programs running in the background.
Need further assistance? contact Technical Support.