A common cause for audio drops and data loss in networked systems is faulty cables.
Remember to use only Cat5e, Cat6, or Cat7 cables. The cable length between the server and switch should not exceed 10m. We support (and highly recommend) using S/FTP cables, especially for long runs, up to a distance of 100m, to avoid signal interference.
For distances greater than 100m, you can use 2 switches that support fiber connectivity (more details in Cables for a SoundGrid System article). Note that cables connecting a DiGiGrid device with a switch cannot be longer than 70 meters.
Use SuperRack / eMotion LV1's routing view to help identify faulty cables: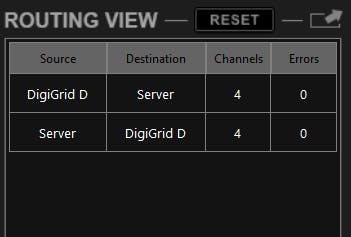 If the server has multiple connections, but errors appear only in one of these connections,

Replace the cable connecting the suspected I/O to the switch.

If all connections to and from the server show errors,

Replace the cable connecting the server to the switch.

If a specific device-to-device connection is dropping audio,

Replace the cables connecting the relevant devices to the switch.
It is also important to make sure that all cables in the system are well seated and do not have broken/loose connecters.
When designing your SoundGrid network, it is important to stick to a star configuration.
Since each cable is limited to a bandwidth of 1Gbps, star configurations help SoundGrid handle heavy traffic loads on the network.
Although some DiGiGrid I/Os have built-in switches, we do not recommend daisy-chaining devices. For example, if you have four IOX devices in a stage rack, then run four separate cables—one from each unit to the network switch—as opposed to daisy-chaining the devices and using one cable to connect to the switch.
Every 'switch hop' in the signal path adds latency, due to buffering in the switch, and while we support up to four 'hops' between point-to-point, it is highly recommended to minimize 'switch hops' whenever possible.
Since the SoundGrid Server is the main source/destination of traffic when using SuperRack/eMotion LV1, you should, as a rule of thumb, design your network so that every I/O device has the shortest path possible to the server. This will, of course, vary significantly per use-case and conditions.
Remember, the SoundGrid network should remain completely private. Connecting non-SoundGrid devices to the network switch or using the SoundGrid network to transfer non-SoundGrid data may result in audio drops and unexpected network behavior.